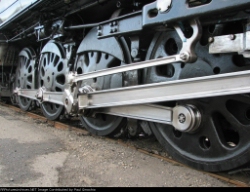 Welcome to the RRPictureArchives.NET contributor site of Paul Ginochio.

NOTE: If I input a loco and/or rolling stock number, and it isn't visible in the photo: It means I DO HAVE a picture of the loco/rolling stock, it means the loco/rolling stock photos WERE taken at the same time and location, and it means the loco/rolling stock were very close to each other, or part of the same train. Also, the "Upload Date" on my photos means it is almost always the same day I took the photo, since most of my dates are approximate.

You may browse my collection of pictures via the menu located on the left hand side of the page. I hope you enjoy the collection and thanks for stopping by!
Note: This site is best viewed in Internet Explorer 6.0 or above.
Select one of the links from the menu on the left to begin browsing the collection.